Scrap Cars Norwich
Take My Scrap Car: Responsibly recycling scrap cars in Norwich since 1989
Discover a new standard in Norwich car recycling– one that puts the customer first! Proudly accepting Norwich scrap cars of every make, model and year, we guarantee an unbeatable deal and the best possible price paid!
Call Take My Scrap Car today to arrange free collection of your scrap car from anywhere in Norwich!
Why Is Norwich Car Recycling Important?
Every year, an incredible ONE MILLION cars are taken off UK roads, once and for all. This amounts to millions of tons of waste material and component, of which around 90% can be recycled or reused.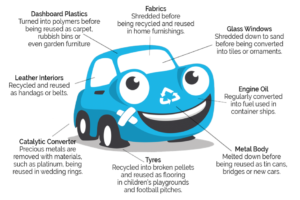 Unfortunately, research suggests that at least 10% of these cars simply disappear into thin air. That's at least 100,000 vehicles per year, which rather than being recycled are allowed to go to waste. It's estimated that thousands of scrap cars in Norwichalone are confined to scrap heaps annually, which amounts to a tragic waste for the UK's recycling cause.
Doing your 'bit' for the environment is about more than simply separating your household waste. When the time comes, you need to pass your vehicle over to a Norwich car recyclingspecialist you can trust. This way, nothing has to go to waste needlessly.
Effective car recycling massively reduces carbon emissions, prevents pollution entering UK waterways and saves the economy incalculable sums every year.  The average Norwich scrap carmight not look like much to you, but holds more value than you think!
So next time you're looking to scrap a car in Norwich, you know who to call!
What makes Take My Scrap Car different? Why choose us over the dozens of other Norwich car recyclingand scrapping services?
Put simply, we outperform traditional collectors of scrap cars in Norwich in five important areas:
When it comes to simplicity, we take things to extremes. Whatever your location, we'll pay you a visit, collect your scrap car and take care of the transportation process. Just a quick call is all it takes to set the wheels in motion…literally!
By cheap, we actually mean free. Every aspect of our Norwich car recycling service is offered 100% free of charge, without exception. Under no circumstances will you be charged a penny at any time – the whole thing is on us!
As an added incentive, we also promise to pay the best possible price for every scrap car we collect in Norwich. We calculate every price in accordance with scrap values on the day, meaning you won't find a better deal from any competing collector!
4 – We Deal With the Paperwork
Unsure how to inform the DVLA you've scrapped your car? No problem – we'll lend a hand and make sure the admin is sorted. This way, you won't be in line for any angry letters or penalty notices through the post.
5 – We Recycle Responsibly
Most importantly of all, we ensure that every vehicle we collect is recycled in accordance with strict UK standards. If there's a way of putting even the smallest component back to good use, you'd better believe we'll make it happen! If you'd prefer a deal that puts you firmly in the driving seat, contact the team at Take My Scrap Car today!
The way we see it, getting rid of scrap cars in Norwichquickly, easily and responsibly shouldn't be rocket science. It's just that far too many car scrapping and recycling services make a meal of things for no reason.
Norwich Car Recycling FAQ: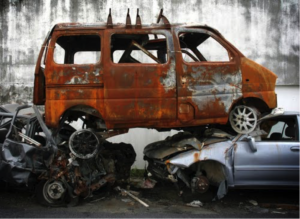 Still have questions on car scrapping and recycling? Read on for all the information you'll need to make the right choice when the time comes:
How do I scrap my car in Norwich?
With us, all you need to do is pick up the phone and let us know where you are. We'll arrange a convenient time and date to pay you a visit and take your scrap car off your hands.
What do I need to scrap my car in Norwich?
Along with the car's V5C registration document, we'll also need proof of your identity and the car keys. It's also useful to hand over any locking wheel nut keys at the time of collection.
Why do you need my identification?
Because we take a strong stance against fraud and misuse of car scrapping services. It's simply a way of ensuring we know exactly whom we're dealing with, which is a legal requirement in accordance with the Scrap Metal Dealer's Act 2013.
What if I don't have my VSC document?
These things go missing all the time, so don't worry too much. You'll simply need to get in touch with the DVLA to let them know you're planning to scrap your car and follow their instructions accordingly.
What's an Authorised Treatment Facility?
Contrary to popular belief, not every Norwich car recycling'specialist' plays by the rules. In fact, it's a legal requirement to ensure that your vehicle is passed on to an Authorised Treatment Facility. Which is, essentially, a facility that is officially licensed to do what it does and is regulated by the government.
How quickly can you collect my scrap car?
It all depends on the time and date of your enquiry, but we generally have drivers out and about 24/7. This means that it's perfectly possible to organise same-day collections, if we happen to be in your area at the time. If not, we'll do whatever we can to collect your Norwich scrap car as quickly as possible.
Can I claim back my unused tax and car insurance?
You will be credited any unused tax by the DVLA automatically, when they receive notification that your car has been scrapped. Refund policies differ significantly from one insurance provider to the next, so you'll need to contact your insurer for more information.
Can a scrap my car in Norwich for cash?
Technically yes, but you might end up breaking the law in doing so. These days, it's a legal requirement for UK car scrapping and recycling services to transfer payments directly into the bank accounts of customers. This ensures accurate and complete records are kept – one of the many measures used to prevent fraud where possible.
How much will my car be worth?
It's impossible to say right now, as we calculate all vehicle prices in accordance with scrap values on the day. Nevertheless, we guarantee you will not find a better deal from any other Norwich car scrapping and recycling service. Feel free to shop around, but you'll be back!
Whether ready to go ahead or simply considering the available options, we'd be delighted to hear from you. Contact a member of the team at Take My Scrap Car today for more information.
Norwich Car Scrapping and Recycling – How Does it Work?
If you're new to the idea of car scrapping and recycling in Norwich, you may be wondering how it all works. The good news being that with Take My Scrap Car, for whole thing really is a walk in the park. We guarantee the total package of quality, convenience and customer support that won't be beaten.
Here's a quick breakdown of how our Norwich car scrapping and recycling services work from start to finish:
Get in Touch with Take My Scrap Car
When the time comes to get rid of a scrap car in your life, simply contact a member of our customer support team and let us know. Alternatively, complete the online form and we'll get back to you as soon as possible. We'll need to know the make and model of your vehicle, along with your address and a convenient collection time.
Convenient Collection of Your Vehicle
As our drivers are out and about day and night, we're happy to arrange convenient collections at a time to suit our customers. Afternoons, evenings, weekends and even bank holidays – we pride ourselves in our flexibility. Once again, there's also the option of same-day collections, if we're in your area at the time.
Transfer of Payment
Upon collection of your vehicle, we'll transfer every penny of the price quoted directly into your bank account. All prices are agreed prior to collection, so you'll know exactly how much your car is worth ahead of time. If you're happy to go ahead, we'll or take care of the rest!
Stripping, Shredding and Sorting
Then comes the painstaking process of stripping, shredding and sorting the various waste materials and components your car is comprised of. A demanding job that requires specialist machinery and skilled engineers, ensuring nothing needlessly goes to waste.
ComprehensiveRecycling
Believe it or not, somewhere in the region of 90% of the waste materials in a scrap car can be recycled. Here at Take My Scrap Car, it's our job to make sure this happens. We go to extremes to ensure that every vehicle we collect is recycled responsibly and comprehensively for total peace of mind.
Disposal of Waste
Last but not least, we also ensure that any components, materials or fluids that cannot be recycled are disposed of responsibly. We operate with total commitment to local and national environmental concerns.
For more information on any of the Norwich car scrapping and recycling process, contact a member of the team at Take My Scrap Car today!
Why Should You Scrap Your Car?
By now, you probably understand the importance of responsible car scrapping and recycling in Norwich. But when does the time come to scrap a vehicle?  How can you be sure that now really is the time to get Take My Scrap Car on the job?
In our experience, these are the five most common reasons why our customers scrap their cars:
High running costs
If your car is costing you more to keep on the road than it's worth, you're pouring money down the drain for no good reason. Regular breakdowns, constant repairs, MOT failures and so on – all the kinds of warning signs it could be time to scrap.
Unsafe to drive
It's down to you and you alone to determine whether or not your car is genuinelysafe to drive. The occasional rattle or squeak is one thing, but there are far too many dangerous faults that go routinely overlooked. Unless you have 100% confidence in the safety and integrity of your vehicle, you're putting yourself and everyone else at risk by driving it.
Write-offs
If your vehicle is written off, responsibility may fall with you to dispose of it.  When fixing it or selling it simply aren't options, why pay a traditional dealer to take it off your hands?  Instead, it makes far more sense to work with a leading Norwich car scrapping and recycling company. One that guarantees a fair price paid for every car collected!
Impossible to sell
Speaking of which, it could simply be that the used car you intended to sell hasn't caught the eye of even a single buyer. These days, the second-hand car market is more heavily populated by outstanding vehicles in prime condition than ever before. Hence, anything that doesn't make the grade might be better handed over to the recycling specialists.
A quick cash injection
Last but not least, many of our customers use the somewhat dated vehicles in their lives to provide them with a quick cash injection when they need it.  Scrapping and recycling a car isn't going to make you rich, but can be a great way of boosting your bank balance in an instant. And once again, we guarantee you will not find a better deal from any Norwich car scrapping and recycling specialist!
Whether ready to organise collection of your Norwich scrap car or simply exploring the available options, we'd be delighted to hear from you. Call the team at Take My Scrap Car today, or fill out the online form and we will get back to you as soon as possible!
Happy customers in norwich
Tait Pollack, Norwich

Great service. Fast car collection

I used TakeMyScrapCar a while ago to get rid of my old Astra. They were fast, polite and paid me the same day. Very happy with them. Would recommend.

27-May-2015